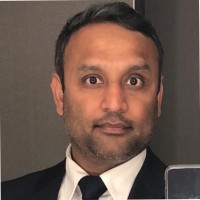 Consultant, Mentor & Ambassador
Jasneet Singh-Profile
Jasneet is an experienced business change and technology professional with deep interest in FinTech arena and a clear understanding of the challenges of organisational change using technology as a transformation enabler.
An Electronics and Telecommunications engineer, Jasneet achieved Masters in Business Administration (MBA) from Warwick University, UK and exchange program with UNC, Kenan-Flagler Business School, USA. The strong academic background is complemented with professional qualifications including MCSE, ITIL, ISEB Business Analysis, Prince2 and TOGAF certifications. Equipped with this skill-set, Jasneet has proven credentials in the internationally regulated and highly competitive financial services, banking and IT consultancy sector.
With a passion for strategic thinking, Jasneet leads by example with emphasis on data driven decision making, delivery planning and benefit realisation. Having worked with major organisations and engaging with C-suite stakeholders, Jasneet is comfortable dealing with complex and often ambiguous business problems while understanding the importance of managing the human aspect of change. Most recently Jasneet was responsible for driving an organisational transformation program to adopt an agile culture shift in a blue-chip company. For another client, Jasneet led an in-house team delivering offshore and multi-jurisdictional regulatory compliance programs through the use of innovative and scalable technology solutions. Additionally, running his own consultancy services company, he has first-hand entrepreneurial experience and understands what it takes to build a business from scratch. Jasneet's experience and skillset are, therefore, particularly suited to Change & IT leadership functions in an agile and highly time-critical setting.
Based on the Isle of Man, Jasneet is a member of local mentorship program and has hosted a number of discussion panels on change management, resource management for a digital world and Agile Shift. Being a Consultant, Mentor and Ambassador for Sush Talent is an attempt to not only advance his own understanding of the rapidly evolving FinTech and services industry, but also to help meet the demands of the digital projects planning and workplace resourcing.